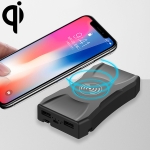 Description
1. Dual USB interface output + QI wireless fast charge, support multiple mobile phones to charge at the same time.
2. Place your mobile phone 360 degrees, you can charge wirelessly.
3. Intelligently identify the charging device, and charge immediately.
4. Intelligent chip foreign object detection to avoid power consumption for no reason.
5. Built-in Type-C + Micro USB + 8 Pin interface data cable, can be charged with or without data cable.
6. Carrying the phone case does not affect charging.
7. The arc fits the palm and can be held with one hand.
Product parameters:
1. Battery capacity: 8000mAh.
2. Battery type: 18560 lithium battery.
3. Effective wireless sensing distance: 8mm.
4. Wireless charging output: 5W.
5. USB output: 5V 2.4A / 3.4A.
6. Comes with data line output: 5V 2.1A.
7. Mirco USB input: 5V / 2A.
8. LED lights: 4.
9. Material: PC high flame retardant material.
10. Weight: 210g.
More Pictures

Pack All Images and Download